In July, streaming surpassed cable TV to become the predominant TV viewership vehicle. Although that might not be unexpected in a post-Covid world, what may come as a surprise is the fact that the fastest growing segment of the streaming audience is people 50+. As of May, people aged 50 and older accounted for 39% of the streaming watch time and those aged 50 to 64 now represent a larger share of the streaming audience than people aged 35 to 49, according to Nielsen, as reported in The Wall Street Journal.
This means that the largest increase in time spent on popular streaming services such as Netflix, Hulu, and YouTube occurred among the 50+ audience. This is good news for the streaming services and advertisers seeking to reach this audience, since older audiences spend more time watching TV than younger audiences. And Baby Boomers, who represent the largest share of the 50+ audience, account for 70% of the disposable income in the U.S. and spend over $548 billion a year [pdf].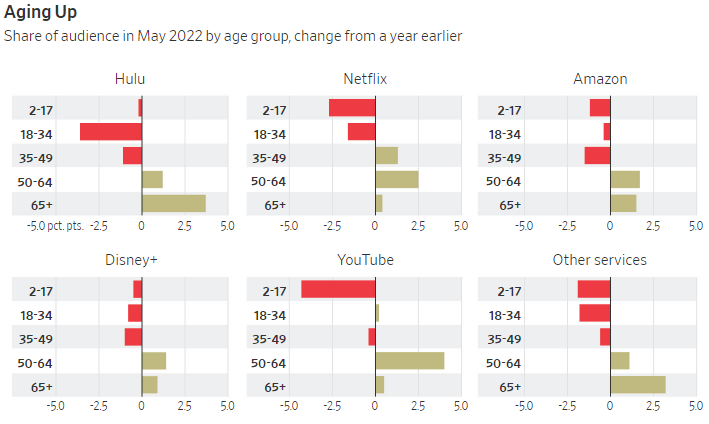 Source: Nielsen NPOWER, National Panel and Streaming Platform Ratings for Streaming Data / THE WALL STREET JOURNAL
Not surprisingly, the growth in streaming by the older audience began during the pandemic, as consumers quarantined at home. In addition, some live sports events like pro baseball started exclusively airing on streaming services, which further contributed to the growth in streaming. Similarly, the recent 2022 World Athletics Championships aired primarily on NBC's Peacock streaming service, NBCSports.com and the NBC Sports app. Another factor contributing to the growth in the 50+ audience is that streaming services are now more easily accessible through smart TVs and set-top boxes, according to the WSJ.
Overall, Americans spent over 24 billion minutes a day watching streaming in May 2022, an increase of 21% from a year earlier, according to Nielsen. As of July, Netflix had the largest share of viewership at 8%, with YouTube at 7.3%, with Hulu and Prime Video at 3.6% and 3.0%, respectively.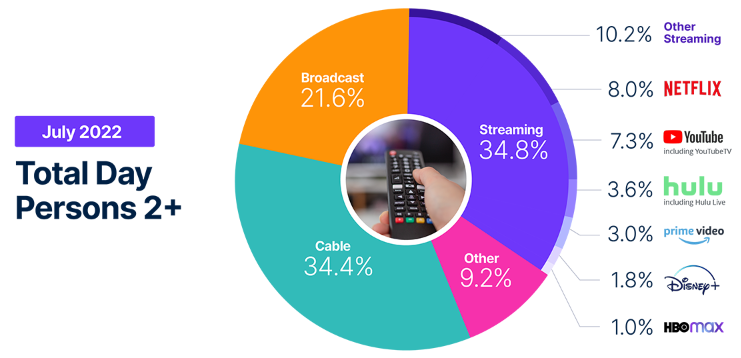 What's driving this older demo to consume more streaming? Older audiences are attracted to content such as comedy, crime, thriller, action and adventure, according to Ampere, as reported in the WSJ. And they like the greater flexibility that streaming offers.
If you're looking to reach the important 50+ audience, you should consider running a streaming campaign as part of your media mix.
By: Peter Koeppel